Our lawyers also have considerable experience in resolving intellectual property and data protection disputes in courts, as well as in investigating and examining data protection infringement incidents.
The clients of ECOVIS ProventusLaw appreciate the benefits of our expertise coupled with deep knowledge of respective sectors. Our lawyers are often contacted by companies operating in the IT, telecommunications and financial services sectors with issues of development of services and products, acquisition of software, licensing, protection of intellectual property, data processing and protection.
We work both with recognised market leaders and with medium and small businesses operating in this sector. Our lawyers have provided advice in processes of strategic importance to the telecommunications market, such as number portability procedures or radio frequency tenders or auctions, as well as represented an IT company in defending its interests after its code had been copied and in defending the interests of a client in a hacking criminal case.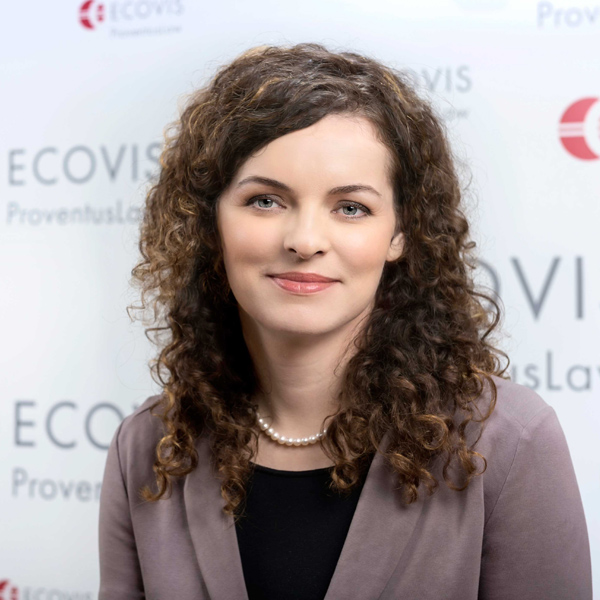 Head of practice group
Loreta Andziulytė
Partner, attorney at law
The experience by ECOVIS ProventusLaw include:
ECOVIS ProventusLaw advises on all regulatory issues of data protection. We represent clients in their registration as data controllers, develop privacy policies and advise on issues related to them. Our lawyers also advise on issues of processing of personal data, personal data of employees and data transfer to third parties, represent clients in the State Data Protection Inspectorate, in courts and in the investigation of data protection infringements.
We advised one of the largest telecommunications companies in Lithuania on regulatory issues regarding changes in the process of selection of the administrator of the centralised number portability database as well as on the participation in a public competition for the selection of the centralised database administrator announced by the Lithuanian Communications Regulatory Authority.
We assisted one of the largest telecommunications companies in Lithuania in obtaining the right to use radio frequencies/channels. Our lawyers provided comments about the terms and procedures of tenders and auctions for the right to use radio frequencies/channels drawn up by the Communications Regulatory Authority and assisted in filing applications in such auctions and tenders.
We represented an IT products distributor in a copyright infringement case concerning the unauthorised copying of an IT code by the competitor who developed his own program on the basis of that code and gained revenue from that program. We managed to prove in court that even a part of a code may constitute an individual object of copyright protection and thus the client was paid compensation and the competitor was prohibited from using this code in his activities.
We represented an IT company in a criminal case concerning hacking their internal information system and unauthorised interception and use of electronic data. The lawyers of ECOVIS ProventusLaw managed to prove that by hacking the database of our client the competitor intended to gain competitive advantage and therefore he was prosecuted both for unauthorised interception and use of electronic data and for industrial espionage.
We represented a medical institution in the State Data Protection Inspectorate in its registration as a personal data controller, in prior checking and in drafting all personal data processing documentation required in order to obtain a permit.