THE EUROPEAN UNION (EU) AND EUROPEAN ECONOMIC AREA (EEA)
EU/EEA definition and member states of World's biggest single market
The European Union (EU) 
European Union (EU) is a political and economic union of 27 countries located primarily in Western and Central Europe. It has internal single market allowing free movement of goods, capital, services and labour (people) between the member states, as well as standardised laws and legal system. EU members states maintain common policies on agriculture, fishery, regional development, trade, tariffs and duties.
Euro, Eurozone and the European Central Bank (ECB)
19 of 27 EU member states are the members of Eurozone and officially adopted Euro as their common currency. The monetary authority of Eurozone is Eurosystem consisting from the national central banks of the Eurozone member states and European Central Bank (ECB).
27 European Union (EU) member states 
Austria, Belgium, Bulgaria, Croatia, Republic of Cyprus, Czech Republic, Denmark, Estonia, Finland, France, Germany, Greece, Hungary, Ireland, Italy, Latvia, Lithuania, Luxembourg, Malta, Netherlands, Poland, Portugal, Romania, Slovakia, Slovenia, Spain, Sweden.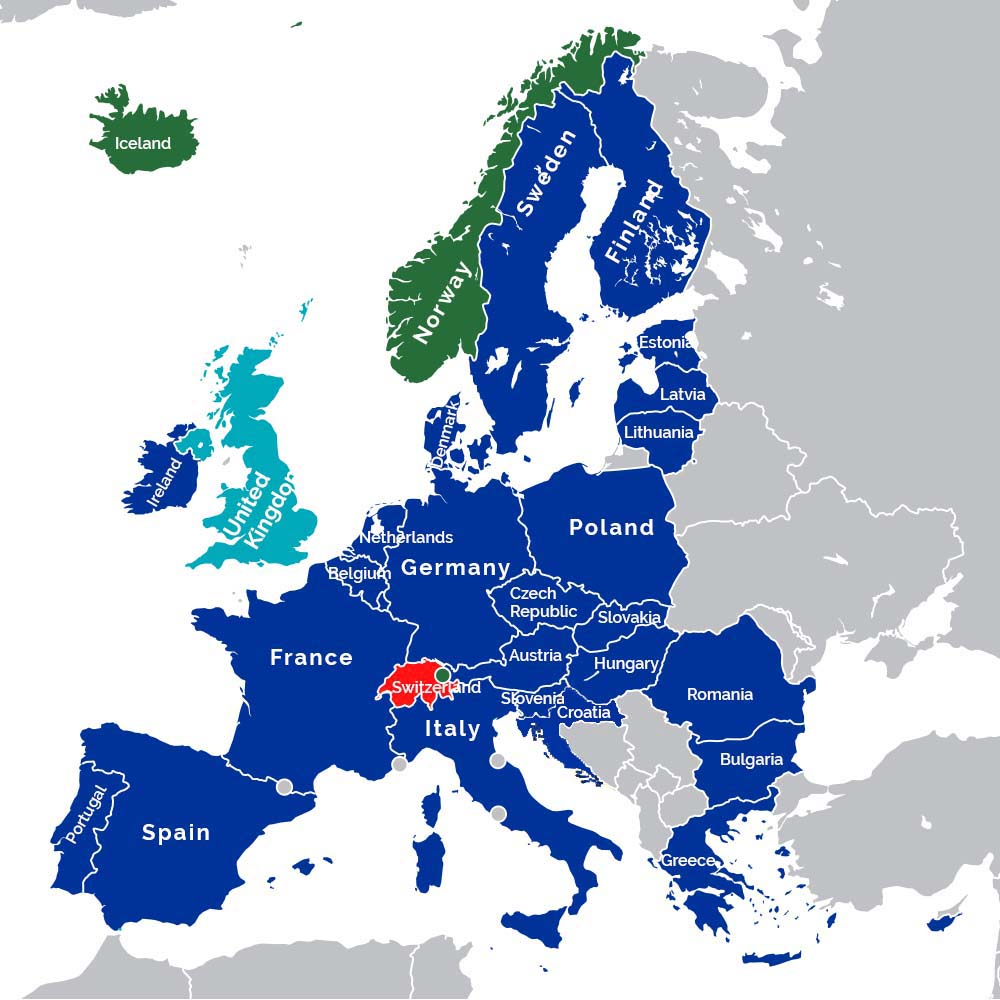 European Economic Area (EEA)
The European Economic Area (EEA) includes all 27 EU members states plus Iceland, Liechtenstein and Norway forming together single European internal market of EU/EEA area. The United Kingdom (UK) has left the EU and EEA. UK was treated as an EU/EEA member state until 31 December 2020. Switzerland is neither an EU nor EEA member, but it has access to only parts of the single market on basis of a number of bilateral agreements with the EU. These agreements are the basis for close cooperation in key areas such as research, internal security and migration, the environment and culture. A big omission is the vast majority of services, including finance. Swiss banks, therefore, do not enjoy a passport allowing them to offer their services anywhere in the EU. Swiss financial intermediaries can only expand their EU business by way of subsidiaries in the EU.
Single European internal market of EU/EEA area
Single European internal market of EU/EEA contains almost 450 million wealthy consumers and over 20 million enterprises currently is the World's biggest single market having harmonized and transparent rules. Free movement of goods, capital, services and labour – the "four freedoms" – are the backbone of single European market. Members states apply the same tariffs to goods from outside the union. Once goods or services have cleared customs in one member state, they can be shipped to others and traded feely in all area without further tariffs and duties being imposed. Freedom of movement allows citizens to move, live in, work and access the welfare system of every member state to which they have moved. Freedom of company incorporation allows the companies incorporated in one member state sell good and provide services in all other states without any restrictions. Free movement of the capital enables businesses to invest and raise the financing throughout all Europe.
Read more: Business registration in Europe https://ecovis.lt/business-registration-european-union-eu/
Business registration in European Union Free Economic Zone https://ecovis.lt/fintech/special-free-economic-zones-european-union-eu/
Finance institution licensing in single European market https://ecovis.lt/fintech/
News
Knowledge without experience is of little use. Therefore we are proud of having our own valuable experience to share with you.