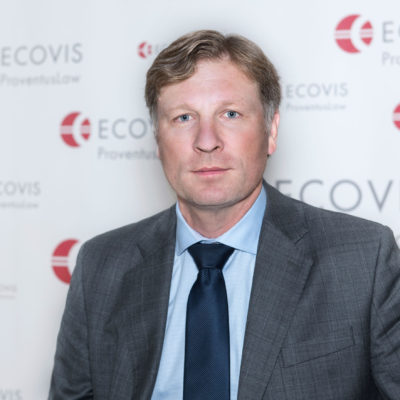 Marius Matiukas
Senior Associate, Assistant Attorney at Law
+370 5 212 40 84
Linkedn
Languages: Lithuanian, English, German, Russian
Curriculum Vitae
Marius Matiukas is an Associate with legal work experience of over 10 years and he currently specialises in the fields of transport and maritime law, family law and labour law, real estate and construction law.
Marius Matiukas has been an Assistant Attorney at Law since 2007. He joined ECOVIS ProventusLaw in 2008.
Marius has extensive experience of representing and advising clients on issues of commercial contracts in the field of transport as well as in dealing with issues related to carriage of goods by road, sea and air transport. He also advises real estate market participants on all issues of commercial real estate transactions: planning and zoning, real estate law, environmental protection, design and construction. His experience in the field of labour law covers advice on employment and non-competition agreements, termination of employment relations and disputes with employees.
Huge Marius experience in drafting of business plans, company incorporation and management benefits a lot for the clients of ECOVIS ProventusLaw Finance institution and FinTech practice group licensing finance institutions in Lithuania.
Before joining the team of ECOVIS ProventusLaw, Marius worked in  Lithuanian law firm.
Education
2004 to 2007
Master of Laws (LL.M.)
Mykolas Romeris University, Faculty of Law
2003 to 2004
Master of Political Sociology
Dalarna University, Sweden
2000 to 2004
Bachelor of Political Sciences
Klaipėda University
Publikacijos
From 2009 to 2013, Marius published short awareness-building articles in the field of civil law (over 20 articles) in English in The Baltic Times.