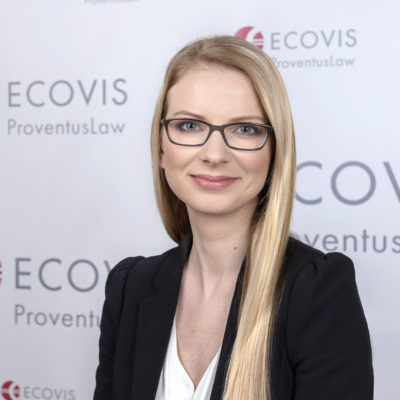 Brigida Bacienė
Senior Associate, Assistant Attorney at Law
+370 5 212 40 84
Linkedn
Languages: Lithuanian, German, Russian, Polish
Curriculum Vitae
Brigida Bacienė has more than 8 years of legal practice experience and she is currently specialising in the fields of labour law, IP, media and competition law.
Brigida Bacienė has been an Assistant Attorney at Law since 2011.
She joined ECOVIS ProventusLaw at the end of 2010. Before joining our law firm, she worked as an in-house lawyer for a company supplying construction services and engaged in manufacturing motor vehicles. Brigida also underwent traineeship in a German law firm Graf von Westphalen, Wirtschaftsprufer, Steuerberater Partnerschaft.
Brigida continuously advised one of the largest telecommunications companies on issues of labour law and distribution as well as in resolution of various disputes. She also conducted the legal due diligence of labour law compliance of one of the largest companies providing client relations management services, which has about 800 employees.
The Assistant Attorney at Law has held training sessions on labour law issues for several years. This involves both training clients' staff on issues relevant to individual clients and open seminars for all interested persons.
Brigida advises companies in bankruptcy and their creditors throughout bankruptcy proceedings.
She keeps herself constantly updated on labour law developments and shares her insights in the media.
Education
2004 to 2009
Master of Laws (LL.M.)
Vilnius University, Faculty of Law
September 2007 to February 2008
Studies under ERASMUS exchange programme
University of Cologne, Faculty of Law (Germany)
2005 to 2007
Exam passed and certification obtained
Centre of the German Law (Germany)
Insights
B. Sorokina. Ar sunku atsisveikinti su brangiu darbuotoju? (Is it Difficult to Let Go of an Expensive?) DELFI, 2015